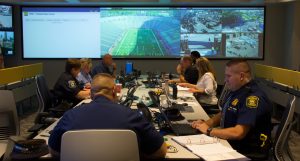 Emergency Management serves the University of Michigan community by preparing for, protecting against and responding to a broad range of emergencies that could impact our people, operations and environment. We also facilitate partnerships and coordination with internal U-M units as well as local, state and federal partners.
Our services
Emergency Management is committed to providing the following services to the U-M community:
Contact us at (734) 763-8391 or dpss-safety-security@umich.edu for more information about any of these services.
Our goals
Provide services that promote emergency preparedness
Lead the development, dissemination and application of emergency preparedness programs within the campus community
Conduct activities that incorporate the values of quality, responsibility, accountability, trust, diversity, flexibility and respect
Our approach
We utilize an all-hazards approach, which means we work to prevent emergencies while simultaneously preparing to respond if they do occur. This approach was set in place to protect the people, property, assets and environment within the U-M community.
Our director
Brad Walvort

Director, Emergency Management
(734) 763-8391
bwalvort@umich.edu