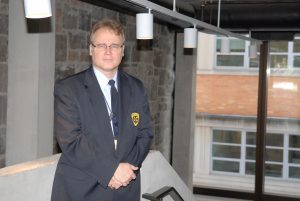 Museum Security is responsible for the overall safety and security of the Kelsey Museum of Archaeology and the University of Michigan Museum of Art.
WHAT WE DO
Museum Security officers are trained to protect patrons and collections, as well as museum staff and buildings, while providing excellent customer service and ensuring full accessibility for visitors.
HOW WE DO IT
By conducting patrols, monitoring surveillance systems, directing and informing visitors, and being prepared in case of an emergency, Museum Security officers help provide a safe and secure environment. This allows patrons to fully engage with the art, artifacts and activities of the museums.
Contact Us
JOHN WILLIAMS

Security Lieutenant
(734) 647-3295
johnpau@umich.edu