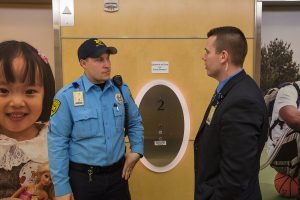 Michigan Medicine Security is a full-service, 24-hour public safety department that works to meet the unique needs of Michigan Medicine. We also are widely acknowledged as a healthcare security leader in patient and family-centered care. In fact, the International Association of Healthcare Security and Safety twice has awarded Michigan Medicine Security the Lindberg Bell Award for demonstrated excellence. What does this mean for you? You can expect that our officers and support staff are highly trained healthcare security professionals equipped to serve all members of our community and help you conveniently and safely visit our health system.
Our services
Promoting patient, visitor, faculty, staff and student safety through community-oriented patrols
Responding to and assisting with medical emergencies
Providing escorts, visitor screenings and motorist assists
Investigating incidents such as theft and vehicle crashes
Monitoring and managing access controls, security cameras, alarms and infant protection systems
Assisting clinical staff with the physical management of patients
Providing Michigan Medicine with staff education opportunities and services related to workplace violence and crime prevention
Contact us at (734) 936-7890 or dpss-safety-security@umich.edu for more information about any of these services. For medical emergencies, please dial 911.
Our goals
Michigan Medicine Security is dedicated to maintaining and promoting a safe and secure environment for our diverse community. Our officers and staff pledge to care for, assist and serve our patients, visitors, faculty, staff and students with integrity and professionalism.
Our approach
We practice patient- and family-centered care, which means that we treat you with compassion, empathy, dignity and respect. This is the safest method for preventing and mitigating security situations that arise from individual and family crises that are unique to a hospital setting.
Our director
Brian Uridge

Director, Michigan Medicine Security
(734) 763-5511
buridge@umich.edu