Be the one who makes the call
Help keep our campus community safe—call the Division of Public Safety and Security (DPSS) as soon as you become aware of any crime, suspicious activity or public safety concern.
Emergency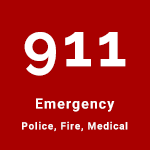 You also may use the Emergency Blue Light Phones located throughout campus to report an emergency.
Non-Emergency Options
Information on potential criminal activity also may be reported anonymously by calling the university's Anonymous Tip Line at 1-800-863-1355.
Our emergency and non-emergency numbers are answered 24 hours a day, 365 days a year. The best option is to call!
Information on specific concerns