If you wish to file a police report, please call (734) 763-1131 or file a report online.
For emergencies, dial 911.
U-M community members who have responsibility for students and campus activities are considered Campus Security Authorities (CSAs). CSAs are required to report criminal incidents in compliance with the Clery Act.
Under the university's Sexual and Gender-Based Misconduct Policy, many members of the U-M community in certain roles are also considered Individuals with Reporting Obligations (IROs) and are required to share information about suspected misconduct to the Equity, Civil Rights & Title IX Office (ECRT).
All CSAs and IROs can report suspected misconduct to the university using the button below.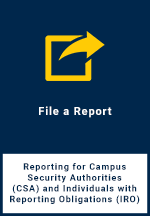 In order to evaluate the need for an emergency or crime alert, all CSA and IRO reports completed are reviewed by the Clery compliance personnel, the Equity, Civil Rights and Title IX Office (ECRT), and the DPSS Special Victims Unit (SVU). All reports are private, meaning the victim's name will not be publicly released by the university.
Have a question related to Clery Act reporting?
Erik Mattila, Clery Compliance and Data Assurance Manager, Division of Public Safety and Security (DPSS)
(734) 763-8391
emattila@umich.edu
Have a question related to policy violations?
Tami Strickman, Executive Director, Equity, Civil Rights & Title IX Office
(734) 763-0235
ecrtoffice@umich.edu