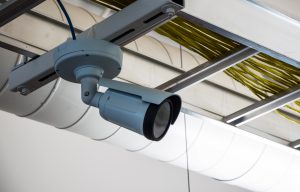 By installing a security camera in or around your University of Michigan facility, you are partnering with the Division of Public Safety and Security (DPSS) to help make U-M a safer place to learn, live, work and heal. Working in compliance with the university's Standard Practice Guide (SPG) policy on Proper Use of Security Cameras, DPSS can ensure proper installation, operation and use of security cameras, including appropriate and legal compliance regarding issues of privacy, retention, release and use of recorded images.
A security camera is video surveillance technology that records people's activities in order to:

Detect, deter and prevent criminal behavior
Investigate crimes
Determine threats to public safety

The following camera uses are NOT considered security cameras and therefore are outside of the scope of the SPG:

Clinical patient care
Human subjects research
Teaching and learning
Video conferencing
Human resources issues
To begin the process of installing a security camera, complete and submit this request form. Once your request is received, a DPSS security assessments team representative will contact you to:

Discuss your security and safety concerns
Conduct an assessment of your current security situation
Recommend improvements or upgrades to existing security measures

Depending on the results of our assessment, our recommendations may or may not include the installation of security cameras. Our overall goal is to reduce your facility's and U-M's vulnerability to crime and other risks.

All camera operators must complete the required operator training. Once training is completed, the Security Camera Operator Code of Conduct should be filled out, signed and sent to DPSS.
If you have technical questions, please review the:
For other questions, please contact us at:
Visit our security assessments page to learn more about our other property protection services.