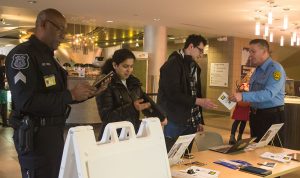 The Division of Public Safety and Security (DPSS) offers a free property registration program to members of the campus community. This program deters theft and assists in the recovery of property in the event that it is stolen.
What can I register?
A bike, a laptop, other expensive electronic devices and more—anything with a serial number!
How do I register?
You can register your property online.
Note: You will need a uniqname and UMICH Kerberos password to register your property.
How does it work?
After registering your property using the link above, two stickers will be mailed to you.
The theft prevention stickers below should be in a clearly visible location on your property. If thieves see your property is registered, they will be less likely to steal it.
Place the second sticker, which lists your registration number, in a more obscure location on the same piece of property. The second sticker is manufactured to be difficult to remove.
What if my registered property is stolen?
To report the theft of property on campus, call DPSS at (734) 763-1131 or report a crime online.
Questions? Contact DPSS Community Outreach at (734) 647-0656 or e-mail us at dpss-safety-security@umich.edu.