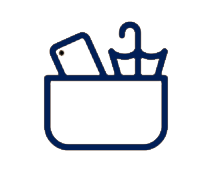 There is no campus-wide lost and found at the University of Michigan. For a comprehensive list of lost and found locations, please visit U-M Campus Information. Many of these locations will turn in valuable items to the Division of Public Safety and Security (DPSS) after a period of time. That means if the building or bus in which you lost your missing item doesn't have it, we might.
For more information, please choose a topic below:
If you lost a valuable item on campus that you think may have been turned in to DPSS, please submit a lost item inquiry by filling out the form below.

Note: Items with no known owner are held for safekeeping for up to six months, depending on the value of the article. After that, items are disposed according to state law.

Contact us:

U-M Police Department Records and Evidence Unit
Address: 1239 Kipke Dr., Ann Arbor, MI 48109
Hours: M-F, 8 a.m. – 3:30 p.m.

If you found a valuable item on campus, please contact DPSS at (734) 763-1131. We will arrange to have an officer pick up the lost item from your location.

You also may drop off the item at UMPD:

Campus Safety Services Building
Address: 1239 Kipke Dr., Ann Arbor, MI 48109
Hours: M-F, 8 a.m. – 4:30 p.m.

If you found a valuable item within the Michigan Medicine complex, please contact the Communications Center at (734) 936-7890. We can arrange to have a security officer pick up the lost item from your location.

If you lost a valuable item at the Michigan Medicine health care complex that you think may have been turned in to Michigan Medicine Security, please submit a lost item inquiry by filling out the form below or contact the Michigan Medicine Lost and Found Office.

Michigan Medicine Security – Lost and Found Office
Address: University Hospital – 1500 E. Medical Center Dr.; Room 1A201; Ann Arbor, MI 48109-5810
Phone: (734) 647-8448
Hours: 24 hours a day, 7 days a week