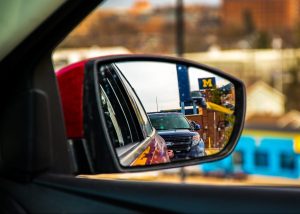 The University of Michigan Police Department (UMPD) offers a ride-along program, which allows a passenger to accompany a police officer during part or all of a work shift. You can see firsthand the daily workings of law enforcement and gain a better understanding of the challenges and rewards of being a police officer.
If you are interested in scheduling a ride-along, please complete the form below. You also can contact the UMPD Patrol Services Lieutenant for more information at (734) 763-3434.
The shift supervisor has the discretion to deny a ride-along for any valid reason, such as knowledge that there is an ongoing criminal investigation with the person requesting to ride-along.
Unless riding in an official capacity, a warrant check will be made on all persons requesting a ride-along.
No persons under 16 years of age will be permitted to ride-along.
If the rider is under 18 years of age, a liability waiver must be signed by a parent or guardian.
The person requesting the ride-along must sign a liability waiver and confidentiality form.
There will be no more than one ride-along scheduled per shift. In addition, a ride-along will only be scheduled when there is sufficient staffing available as determined by the shift supervisor.
Instructions of the officer to whom they are assigned shall be followed, such as staying in the patrol vehicle, returning to the vehicle and remaining at a designated place during any perceived hazardous situation.