Chances are you'll never face an active attacker situation.
However if you do, you need to be prepared.


Contemplating an active attacker incident is terrifying and disturbing. While it's unlikely that you will ever face an active shooter situation, ​knowing how to respond could save lives. If this content causes a reaction, please be aware of campus resources available to you:
An
active attacker
situation can cause panic and disbelief. Knowing what to do in advance increases your chances of surviving. Your reaction matters.
Active Attacker - Definition
An "active attacker" is defined as "an individual actively engaged in killing or attempting to kill people in a confined and populated area." (This is the agreed definition, according to multiple US government agencies, including the White House, US Department of Justice, FBI, DHS, etc.). In most cases, active shooters use firearms and there is no pattern or method to their selection of victims.
Remember these three words—RUN, HIDE, FIGHT—these actions may save your life or the lives of others.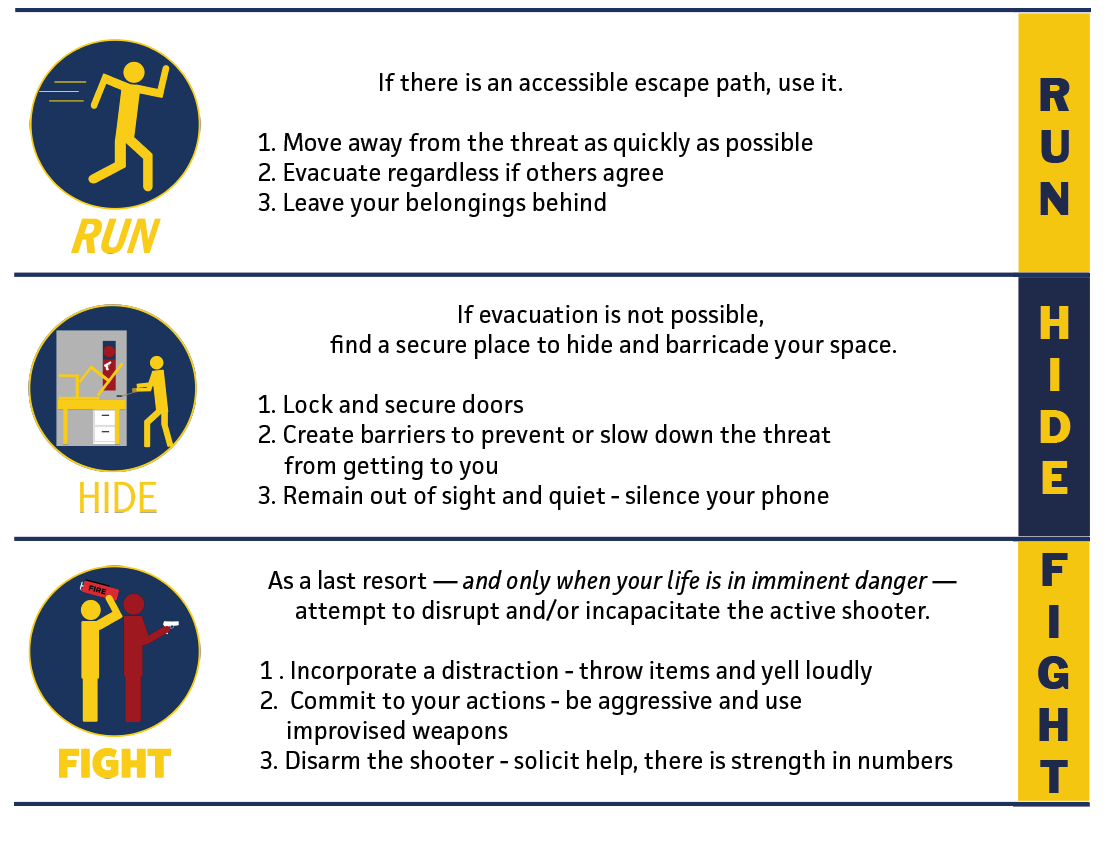 INFORMATION TO PROVIDE TO LAW ENFORCEMENT OR 911 OPERATORS
Location of the active threat
Description of attacker(s)
Number and type of weapons and/or suspicious packages
Location of victims and hazards (fire or explosions)
WHAT TO DO WHEN OFFICERS ARRIVE
Follow all instructions from officers
Keep your hands visible at all times
Tell officers where the attacker is, if you know
WHAT TO EXPECT FROM RESPONDING POLICE OFFICERS
Police officers responding to an active attacker are trained to proceed immediately to the area in which shots were last heard in order to stop the shooting as quickly as possible and create a safe environment for medical assistance to be brought in to aid the injured.
The responding officers may be in teams dressed in normal patrol uniforms, or they may be wearing external ballistic vests and other tactical gear. Expect to see different uniforms or officers in civilian clothes because officers will be deployed from different departments.
LAW ENFORCEMENT OBJECTIVES
End the threat
Render medical aid
Evacuate people safely
Investigate
OTHER CIRCUMSTANCES TO CONSIDER
How you respond to an active attacker will be dictated by the specific circumstances of the encounter. In addition, many in our community may need to respond differently as a result of a disability, caregiver relationship, leadership role, unique workspace location, or a variety of other reasons. Please contact us to discuss any specific concerns you may have. Always remember your options: RUN, HIDE or FIGHT.
CONTACT US FOR MORE INFORMATION
Stay informed by signing up for UM Emergency Alerts.
You also may contact the Community Outreach Unit if you have additional questions or would like an officer to speak to your department, class or group.
ADDITIONAL RESOURCES
| | |
| --- | --- |
| | |
| | The U.S. Department of Homeland Security Active Shooter Preparedness website aims to enhance preparedness by providing products, tools and resources to help you prepare for and respond to an active shooter incident. |