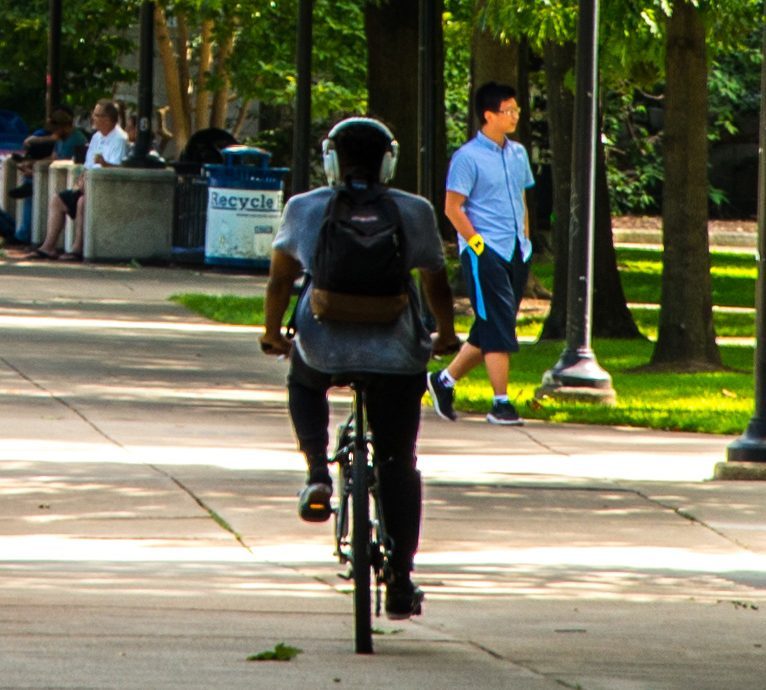 Ann Arbor was named by the League of American Bicyclists as a silver-level "Bicycle Friendly City" in 2009 and 2013. Why? Because we strive as a community to make biking a convenient and safe mode of transportation for everyone involved: cyclists, drivers and pedestrians. This is only possible when all parties know and abide by the rules of the road, the sidewalk and the bike lane. For more information about these rules (and other important matters such as bicycle parking locations and how to secure it on campus), please choose a topic below.
Cycling can be dangerous anywhere, but especially so in an urban environment. As such, it is important to:

Stay alert at all times
Follow traffic laws and signals
Be visible—put a white light at the front of your bicycle and a red light at the back
Wear bright or reflective clothing
Wear a helmet
Yield to walkers on sidewalks and paths—they have the right of way
Bicycles are frequent targets for theft, especially on a college campus. Why? Because they are valuable, portable and easy to steal. To help protect your property, we suggest you take the following steps:

Register your bicycle. Registering your bike (or personal electronics such as a laptop) with the University of Michigan Police Department (UMPD) can help deter theft and assist in the recovery of stolen property if your bike is stolen.
Use a designated parking location. If you plan on parking your bike on campus or anywhere else in public, use a designated parking location. Locking your bike to benches, garbage cans, railings or other objects could result in your bike being impounded.
Invest in a quality lock. We suggest using a hardened steel U-lock with a double-lock mechanism or a strong chain. Avoid cable locks, which are easy to cut through.
Know the right way to use your lock. When locking your bike to a rack, secure it through the frame and at least one (though preferably both) of the wheels.
Secure or remove expensive bike accessories. When parking your bike, it is important to either secure or remove accessories that otherwise might be stolen. This includes seats, bags, bottles, lights or GPS tracking devices.
The University of Michigan Logistics, Transportation & Parking Department provides user-friendly guidelines for safely biking around campus, bike parking and abandoned bike removal. For your convenience, we have included some pertinent links below:

You also may want to download the Washtenaw Bicycling and Walking Coalition's Roadway Safety for All Users—a convenient PDF guide for cyclists, walkers and drivers.
"Leaving your bike out without a lock, or with a cheap cable lock, is basically asking for it to get stolen."
– Adam Kucharczyk, U-M student, on what he learned after losing his bike
If you are the victim of theft, contact the division of public safety and security at (734) 763-1131 or report a crime online.