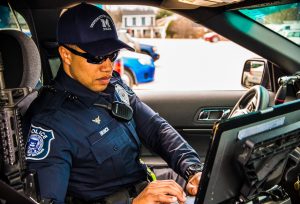 The University of Michigan Police Department's (UMPD) patrol unit is responsible for patrolling campus buildings and grounds on foot, bike and motorized vehicle 24 hours a day, seven days a week. The goal is simple: to keep our community safe.
What we do
Patrol campus grounds and buildings to protect lives and property
Regulate traffic and enforce motor vehicle laws
Respond to accidents or stranded motorists
Answer distress calls or calls for assistance
Take initial police reports
Investigate suspicious activity
Interview witnesses and suspects
Identify, pursue and arrest suspects and perpetrators of criminal acts
How we do it
All UMPD officers are highly trained. They are required to complete a Michigan Commission on Law Enforcement Standards (MCOLES) certified police academy followed by a rigorous four-month, on-campus field training officer program. UMPD officers also must successfully complete a 12-month probationary period. Once officers successfully have completed training, they are assigned to a road patrol shift, reporting to a sergeant. These officers may be assigned to numerous specialty units and responsibilities such as Special Victims Unit, K-9, Community Outreach, accident investigations, evidence tech, motorcycle, bicycle or Washtenaw County Metro SWAT.
Who we are
Lt. Paula Williams

Supervisor
(734) 936-4163
prwllz@umich.edu