The University of Michigan Police Department (UMPD) K-9 unit consists of two individual teams: Riggs and Columbo, both Belgian Malinois, who are handled by Officers Susan Upton and Joseph Dunny. Belgian Malinois are known for obedience, tracking, agility, search, rescue and police work. Officers and their K-9 partners train, work and even live together—all in an effort to keep our community safe.
What we do
At UMPD, our K-9 teams are highly trained and have a wide variety of responsibilities. These include but are not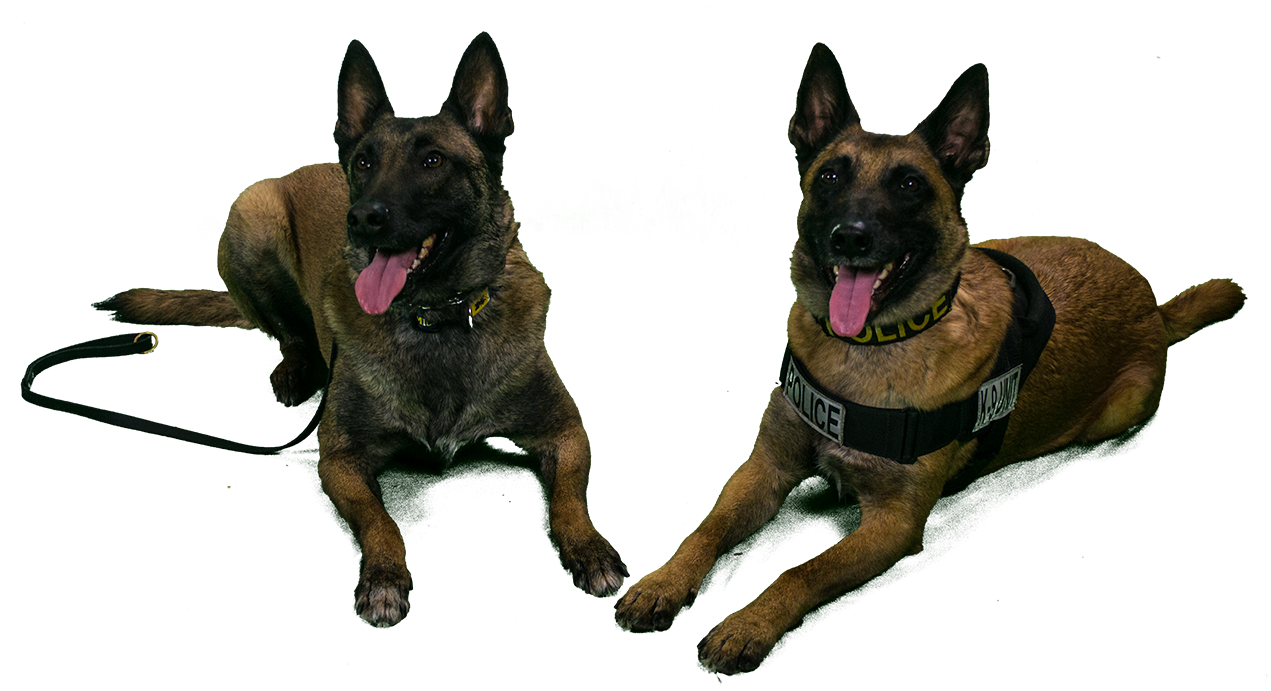 limited to:
Apprehending and/or tracking suspects
Assisting on search warrants
Responding to burglaries
Finding evidence
Searching buildings
Tracking missing persons
Conducting traffic stops
Providing K-9 demonstrations
How we do it
Dogs and handlers undergo rigorous and constant training to stay USPCA-certified in both explosive detection and criminal apprehension. They are certified twice per year, every year. Our dogs and handlers also undergo multi-jurisdictional training with local, state and federal partners. This includes yearly training in explosive hides and odor recognition.
Our history
UMPD's K-9 unit began in 2002 with the addition of two rookie officers: Brutus, a Belgian Malinois, and Jessy, a German Shepherd. Their handlers were Officer Mark West and Officer Brian Daniels. Together they provided a higher level of safety for the University of Michigan community by assisting in locating suspected criminals, stolen cars, suspected explosives and much more.
After the dogs' well-deserved retirement in 2008, two new dogs—Taser and Sampson, both Belgian Malinois—started their tour of duty with the UMPD. The second generation of police dogs was handled by Officers Brian Daniels, Mike Mathews, Joseph Dunny and Mark West. Both dogs retired in 2014 after six years of faithful and devoted service.
The third generation of K-9s retired in 2020 and consisted of two more Beglian Malinois: Tank and Nike, who were handled by Officers Joseph Dunny and Susan Upton. Together they continued the proud history of serving our community.
Who we are
Police Officers Joseph Dunny & Susan Upton

(734) 763-3434
dpss-safety-security@umich.edu
Photo gallery