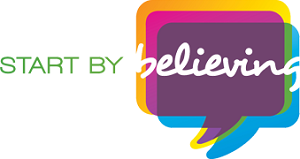 When a sexual assault is reported, officers with the Division of Public Safety and Security (DPSS) start by believing. Knowing how to respond to a sexual assault is critical—a negative response can worsen the trauma and foster an environment where perpetrators face zero consequences for their crimes. We want our community to know that if they come forward with a report, it will be taken seriously and addressed compassionately.
Start by Believing is a public awareness campaign uniquely focused on the public response to sexual assault. A friend or family member usually is the first person a survivor confides in after an assault and each individual's personal reaction is the first step in a long path toward justice and healing. All too often, when a survivor confides in someone they trust, they do not feel fully supported. As a result, they are less likely to pursue the matter with law enforcement. This is why leadership at the University of Michigan, U-M's Sexual Assault Prevention and Awareness Center (SAPAC) and DPSS support the Start by Believing campaign .
Because rapists attack an average of six times, one failed response can equal five more victims. Start by Believing will lead the way toward stopping this cycle by creating a positive community response, informing the public, uniting allies and improving our personal reactions. The goal is to change outcomes for victims one response at a time.
In 2016, the Special Victims Unit (SVU) brought this public awareness campaign to the Ann Arbor community. Now in Washtenaw County, multiple agencies, criminal justice stakeholders and community partners work together to foster a positive response to victims of sexual assault. Together we strive to provide a safe, caring environment where victims are empowered to step forward and take action against those who have harmed them.
Partners
Pledge
For organizations interested in taking the Start by Believing pledge, contact DPSS Community Outreach at (734) 763-3434 or fill out or online form to request a presentation.
Individuals also can make a personal pledge to Start by Believing.
This public awareness campaign is brought to you by: